Pastor Lance T. Johnson, Sr
"Pastor J"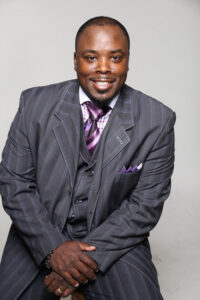 Pastor Johnson was saved and sold out for Christ in the fall of 1992. He diligently strived for excellence and graduated from Morehouse College in the spring of 1993 with a B.S. in Biology Pre-Med. He received many awards and achievements while attending. However, in the summer of 1993, God returned to Pastor and said "Are you ready to save lives?" Pastor thought that this meant that he was about to go to one of the many medical schools he had applied, but God said to Pastor that medical school is not in your future but "saving lives" is in your destiny. After the shock and sorrow, Pastor Johnson began to get heavily involved in his new church home, Wings of Faith Ministries, Atlanta, GA., not really knowing what was next. While working as the Director of Recruitment at Morehouse College where he recruited and mentored hundreds of young men, he began to grow strong in the Lord, developing strong humility and an even greater thirst for God and His Word.
He was ordained as a Deacon at the age of 23 and God elevated him and told him that it was now time for him to preach that he may "save lives" by bringing people to the glorious gospel of Jesus Christ. Pastor was licensed in 1997 and after going before the Presby, He was ordained in 1998 as a minister of the gospel. God also confirmed that he would Pastor and plant a church. After taking heed to the call to become a Pastor in the year of 1997, God revealed to him that Charleston, SC would be the destination. He answered the call and in July of 2000 Pastor Johnson and his wife First Lady J moved here to plant the church that we now know as The Revelation Of Christ Church, The R.O.C. Church.
On September 17, 2000 the church was birthed. In 2002 the church purchased 2 of the 5 acres it sits on which includes the church building and a 1700 square foot building, which is now the Children's Development
Center. In 2003, he and First Lady J were blessed with a beautiful daughter named Christian and then blessed again with the birth of their promised son "LJ" in 2006. In between, he also became the entrepreneur of a non-profit organization called "The Partners for a Better Community" (The P.B.C.) on October 31, 2004 which brings together businesses, organizations, and the church to do what they do best, by offering services for the betterment of the community. Furthermore, he has always been a proponent for education. He has plans to pursue a Master of Divinity degree while continuing to be very dedicated to his ministry, the church, his family and most of all the Word of God, for he is very determined to reach this community, city, state, and ultimately the world by "Unveiling Christ to the World" through evangelism, education, and empowerment.
In 2007, the church went to two spirit-filled services that are rapidly growing and experiencing the transforming power of God through praise, worship, and His Word in every service. In 2009, The P.B.C. was officially established as a 501(C)3 company and continues to do community outreaches like the Thanksgiving Outreach & Christmas Blessings where we, with the help of our Partners, donate food and clothing to families in need during the holidays as well as our Annual Health Day Fair which provides free healthcare to hundreds of people every year and founded the ABF Camp (Academic Bible and Fun Camp) to empower youth during the summer. In 2010, Pastor Johnson was commissioned by Bishop Eddie L. Long as an Ambassador to the Father's House Ministry. Furthermore, in 2012, God placed in his heart to start the EWJ Scholarship Fund, and in 2012, the PBC sponsored the first Scholarship Gala where students received financial awards for their college education, handing out over $20,000 to date, and now hosting the Annual EWJ Scholarship Silent Auction.
All in all, with The R.O.C. Church growing and thriving by reaching souls for Christ and transforming lives, Pastor Johnson still believes that there is more that God has in store for us. In the fall of 2015 we experienced "Explosive Expansion" by adjoining our two buildings and created more office space, a Grand Foyer, conference room and additional restrooms! We dedicated the grounds and entire building, The New R.O.C.C Worship Center back to God on Sunday, January 24, 2016 with an incredible celebration that brought distinguished guests from near and far to worship and celebrate with us. Now, after 22 years of service, Pastor J has continued to lead us through a globla pandemic, still implenting creative concepts like Tuesday Momentum, Drive-Up Church, Let's Talk Facebook Live Series, FREE Health Screenings Day with free COVID TESTING, Blood Drives, Home-Buying Seminars, & offering free sessions with licensed psychologists & therapists to embrace mental health during these perilous times, being there for families in life and in death.
We know and believe that eyes haven't seen, ears haven't heard, neither has it entered into the hearts of men what God has in store for Pastor as he continues to travel and preach the gospel to thousands and now plans to launch ROCC Atlanta in 2023! For "as a little shepherd boy" he still thirsts for God to use him even more and we celebrate him as God takes him higher & leads us over through his Leadership! God continues to use Pastor Johnson to bridge the gap in our community by his tireless work with the Mayor, Police Chief, other Government Officials, Pastors, and Bishops near and far to help transform this world and bring people to Christ.
*To Order a copy of Pastor J's book
"Don't Die a Caterpillar: The Power of Transformation
Call The R.O.C.C. Church Office at 843-566-0024 or go to www.amazon.com
Email:
Follow Pastor J on

Periscope @PastorJ175